Not All Hand Disinfectants Are Created Equal
How you can tell which hand hygiene solutions safely and effectively kill the virus that causes COVID-19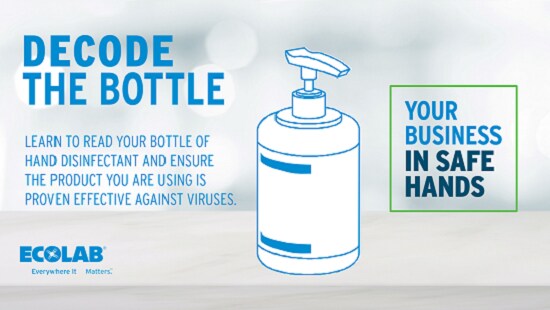 As the COVID-19 pandemic drags on, there is a growing list of products distinctions around how to combat the spread of the disease. Studies show that hand disinfection solutions are a critical component for preventing the spread of disease. However, not all these products are created equal. As regulations ramp up and more companies introduce products, it's important to know what to look for. Learn how you can identify safe and effective solutions here.
During the first wave of the pandemic in Europe, disinfectant manufacturers moved to address the increased need for Alcohol-Based Hand Rub (ABHR). To cope with surging demand and ramp up supply, Member States of Health granted emergency permits allowing new producers to quickly enter the market under a clause in Article 55 of the EU's Biocidal Products Regulation (BPR)1. However, some resulting solutions were exempted from usual legal requirements designed to ensure safety, quality and consistency.2 This sudden flood of new hand care products on the European market created a pervasive problem, with many of these solutions containing harmful or ineffective ingredients. In fact, the Irish School System was instructed to stop using 53 disinfectant products because it had not been possible to confirm registration status3. In addition, the General Directorate for Competition Policy, Consumer Affairs and Fraud Control (DGCCRF) in France tested 180 hand disinfectants and discovered that 73% of the products were not compliant4.
Now, with the second wave disrupting the region, businesses continue to rely on hygiene solutions to keep their operations running while protecting employees and customers. Today, there is a plethora of available products with varying levels of quality. According to ECHA, 20 EU Member States have reported an increase in non-compliant hand disinfectants on their markets since March 20205. From the neighbor next door to the unknown brand on the internet, there are all kinds of new producers. With so much supply, consumers are faced with lots of questions as they try to interpret what is safe and effective. What are the ingredients in these products? Are the formulas effective? Will my customers and employees be safe using them regularly?
First, it's important to note that many of these products were made under time limited derogations – a relaxation from the normal requirements for product authorization for a maximum of 180 days6. These unconventional producers who entered the market under these legal exemptions could now be unaware that their permit has expired. Unfortunately, this can leave customers in a bind or even unaware that they may be holding expired or prohibited product. And the number of these types of products are growing on the market every day; At the end of October, there were 112 products expired under the regulation in Europe. By the end of April 2021, there will be 434 more – at a minimum.
Now, more than ever, product quality, efficacy and safety matters. Public confidence in industry partners who manufacture disinfectants is important so that businesses and healthcare facilities can confidently access quality products, supported by strong scientific and regulatory support.7
So, how can you sift through this tangled web and ensure you hand hygiene solutions are safe and effective?
Refer to the product label before use. Hand care products should be classified under one of two regulations: cosmetic or biocide. The easiest way to see if your product is cosmetic or biocide (or has neither registration) is to look at the label. There are completely different rules and regulations that qualify a product as a biocide versus cosmetic, with Cosmetic being more easily attainable and require less rigorous rules for manufacturers.
Know the viral registrations or claims for your product. Consumers looking for a solution to protect against specific bacteria and viruses, are looking for a biocide. Hand disinfectants under the biocide registration are subject to strict regulatory requirements with proven efficacy and safety data. For virucidal hand disinfectant, the bottle should follow the following criteria: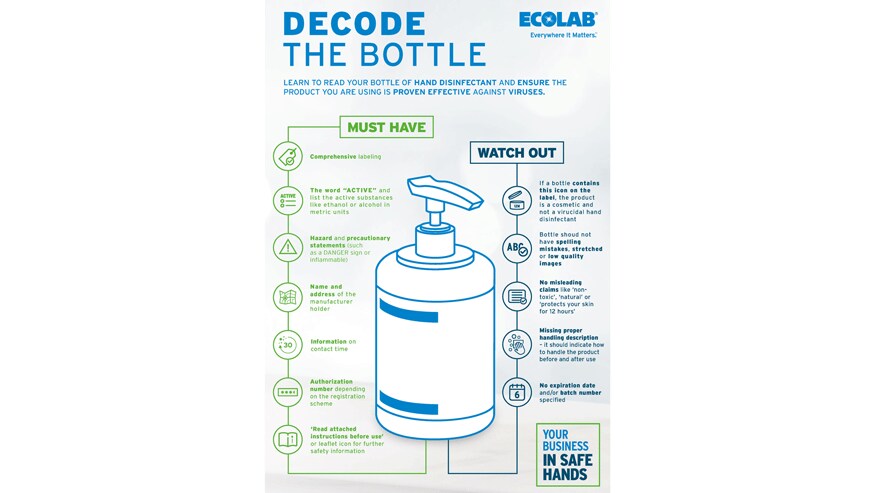 Among the vast array of product in the market, take into consideration that skincare doesn't need to be compromised for efficacy. The best hand disinfectants don't damage your hands. As large traditional suppliers are shifting to cope with new demand, product with the magic combination of high-quality formulation, rapid microbial efficacy as well as skin friendliness does exist and is available. Don't compromise your health and safety with potentially toxic or expired and illegal product.
xxx
ABOUT ECOLAB
Ecolab is committed to helping customers address public health issues such as COVID-19 through comprehensive programs that help reduce the spread of infectious diseases. We help clean 40 billion hands, thus helping reduce more than 1.2 million infections. Informed by our nearly 100 years of experience in industries such as hospitality, healthcare, manufacturing and education, our hand hygiene solutions are integrated into programs that include consultation, training and service to help keep operations running and patients, staff and people safe and healthy.
SOURCES
La DGCCRF protège les consommateurs en testant la qualité et la conformité des gels et solutions hydroalcooliques
"COVID-19-Related Derogations Under the EU Biocidal Products Regulation and Italian National Guidance"
"Alcohol Based Hand Rubs – Effective formulations are key for reducing the risk of Healthcare Associated Infections for patients and adoption by healthcare staff, but how do you choose the right product for your healthcare facility." Ecolab. September 2020.